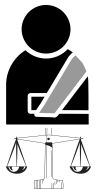 When you suffer a life-threatening injury because of someone else's fault, you have the right to act against it legally. Accidents can cause major physical, mental, and financial suffering to the victim and can derail the normal life. In such situations, make sure that you are consulting a personal injury attorney as an experienced attorney will be able to investigate your case deeper and can offer you desired solutions. The injuries caused to you during the accident are going to burden you with loads of medical bills and other types of financial issues.
When you consult a personal injury attorney, he helps you to get compensation for the accident. If you think that you can handle it all by yourself, then be ready to get a lesser claim. Whereas, when you hire an attorney, he helps you by winning a claim that bigger than what you couldn't have won by yourself. The attorney makes sure that your medical expenses, physical sufferings, and other financial losses are recovered from the offender. Therefore, here are the accident cases that a personal injury attorney usually handles.
Slip and fall accidents
These accidents are very common and usually, even if it is minor, the victim tends to ignore the offender and moves on. Apart from that, many of us do not even know that you can take legal action for a slip and fall accident when it is someone else's fault. Be it an incident that has happened at your workplace or in a public place or on personal property, you have the right to file a personal injury claim. The personal injury attorney helps you for covering all the medical bills, lost wages, and fair compensation for your damage.
Car accidents
Just like slip and fall accidents, car accidents are also known to be very common, but they can be extremely fatal. However, if you file a legal claim for a car accident, mind that it is not going to be an easy ride. There are several factors involved in the car accidents such as serious injuries that can cause disabilities, trauma, or sometimes death. But having the back of your injury attorney is going to get you a fair solution for this problem. The attorneys have all the necessary experience that is needed for the case.
Motorcycle accidents
Motorcycle accidents can cause some severe damages and they can be serious if the other cars or vehicles on the road do not pay attention to the two wheels. In motorcycle accident cases, the attorney makes sure to work at his best by knowing the severity of the collision suffered by their client.
Truck accidents
Truck accident cases can be tricky as it involves huge commercial vehicles such as rigs, semi-trucks that are bound to have some serious impacts. Though the size of the injury to the person can be fatal or sometimes death and the damage to the vehicle is always big. Therefore, it is going to be a task to settle a negotiation with the insurance companies and the truck companies. But if you work with a personal injury attorney, it is going to work out in your favor.
Dog bites
Yes, a personal injury attorney does take the dog bite cases. If a dog attacks you or bites you, the injuries are going to be serious and you can file a claim against the pet owner. The attorney will make sure that you get compensation from the pet's owner for causing you physical and financial troubles.
Pedestrian accidents
According to the law, pedestrians have the right of the way. If you have been in any kind of pedestrian accident that has caused you physical damage, talking to a personal injury attorney is going to protect your rights and the attorney will make sure that you get a claim to cover all your losses.
Accidents are unpredictable and that is why you need to make a rational decision when it happens. Hire a personal injury attorney as he can make sure that you get compensation for all your losses that you have suffered in the accident. Ask all the necessary questions to your attorney to find the right path for your case.